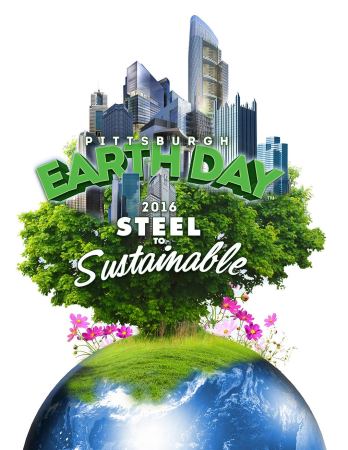 Easy Street Promotions is proud partner with Acrobatique Creative, Executive Producer for the Pittsburgh Earth Day: Steel to Sustainable celebration, as the event organizer for this year's celebration.
Last year on Wednesday, April 22nd, 2015, we hosted over half a dozen events throughout the city. This year's celebration will span four days of exciting programming featuring local businesses, sustainability education, art, fashion, live music and Pittsburgh's role in the Earth Day movement.

On Thursday, April 21st, we invite guests to the Ecolution Fashion Show at the Fairmont Hotel. The runway show will feature recycled and reused materials designed exclusively for Pittsburgh Earth Day by local designers. This year's event will be held in the Grand Ballroom and feature music, cocktails, hors d'ourves and original fashions. Stay tuned for ticket information!

Friday, April 22nd, the official day for Earth Day celebrations worldwide, will begin with a press conference in the City County Building and showcase 200 artifacts honoring Pittsburgh past courtesy of Rivers of Steel. The Press Conference will showcase how local businesses embrace sustainability and help to put Pittsburgh in the limelight as a new global, ecological economy.

Following the press conference, the Pittsburgh Earth Day Business Breakfast will take place at the David L. Lawrence Convention Center, one of the first LEED-certified convention centers in the world, from 8:00 - 10:00 AM. The breakfast will feature a panel of innovators discussing the current climate of green industries in Pittsburgh and the future of sustainability in the city.
From 11:00 AM to 5:00 PM on April 22nd, Market Square will be filled with a mix of local vendors specializing in Earth-friendly products and services, along with organic and educational vendors and live local music!

There will also be a Food Truck Festival from 11 AM to 2 PM featuring local food trucks that will all run on solar power thanks to Zero Fossil. The Festival will take place on 10th Street along the West wing of the David L. Lawrence Convention Center and all items used will be eco-friendly.

After work from 5:00 -9:00 PM, the City will be invited back to the Convention Center for a happy hour event featuring an evening of music, a curated art exhibit featuring local artists, organic and handmade vendors and activities for all ages.

On Saturday, April 23rd, in honor of Pittsburgh's steel past, Pittsburgh Earth Day's Steel to Sustainable Festival will take place from 7:00-11:00 PM at the Carrie Blast Furnaces at the former U. S. Steel Homestead Works. This ticketed event will benefit Rivers of Steel National Heritage Area. The event will feature local food, craft beer, live music and the Hard Hat Art Project!

And on Sunday, April 24th, guests can join the conversation with a TEDxPittsburgh Brunch! Local TEDx speakers will share talks promoting the future of Pittsburgh and the collaborative ideas that will propel the City into even further green innovation in the years to come.